Quick Scroll To:
---
DESCRIPTION
This transmittal contains a somewhat complex office chair model.
.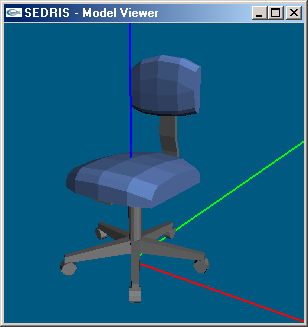 .
.
---
DATA CONTENT
Database Extents:
DRM Classes Used:
.
Absolute Time
Ambient Colour
Citation
Data Quality
Diffuse Colour
EDCS Use Summary Item
Geometry Model
Identification
Inline Colour
Keywords
Legal Constraints
Lineage
Local 4x4
LSR 3D Location
LSR Transformation
Model

Model Library
Polygon
Presentation Domain
Primitive Colour
Process Step
Reference Vector
Rendering Properties
Responsible Party
RGB Colour
Role Data
Security Constraints
Transmittal Root
Transmittal Summary
Union Of Geometry Hierarchy
Union Of Primitive Geometry
Vertex
EDCS Classification Codes Present:
ECC_FURNITURE
EAC_FURNITURE_TYPE
---
COMPATIBILITY INFORMATION
This data set is compliant with SEDRIS 4.1.x.
---
POINT OF CONTACT
Send email to help@sedris.org for questions or assistance in using this data set.
As a minimum, please provide the following in your email:
data set name
SEDRIS compatibility version
hardware architecture
OS name and version
detailed problem description
---
DOWNLOAD
Last updated: _ April 15, 2008