Fact Sheet: _ Town Square, Anywhere
Quick Scroll To:
---
DESCRIPTION
This transmittal represents a fictitious town square that could exist anywhere. Town Square, Anywhere is a geo-typical urban environment generated by the Institute for Defense Analyses (IDA) Terrain Team. Their objective is to produce realistic and detailed urban databases that provide an interactive, low cost and non-intrusive training environments. The IDA Terrain Team has produced a series of highly accurate 3-D visual representations of specific environments and correlated 2-D representations for semi-automated forces applications. This is their first geo-typical terrain data base.
.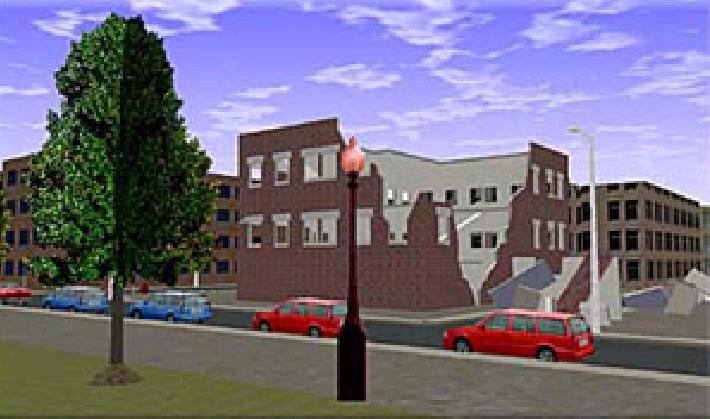 _ _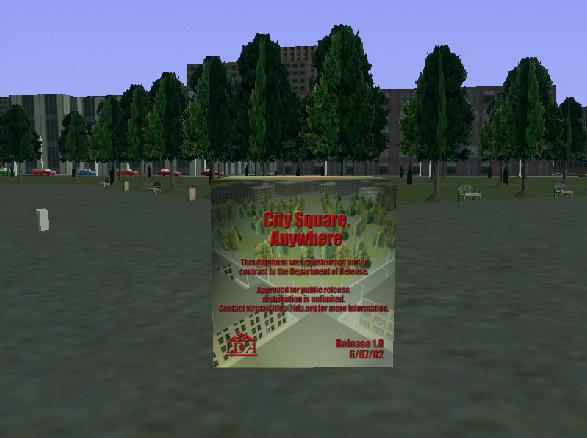 .
Over the past couple of years, and especially after the events of 11 September 2001, there has been an increasing demand for realistic urban environments to support interactive, virtual reality training, mission rehearsal, equipment development, and a variety of other requirements.
The majority of the Virtual Cities that have been built for the Virtual Emergency Response Training System program have been actual cities constructed from the geographic information system (GIS) data provided by the cities. The cities, and our DoD sponsor have put restrictions on providing these cities for other than "official business" use.
Town Square was constructed using the same procedures as used for the "Virtual Cities" but we have inserted generic buildings, stylized additions, and representative artifacts. It is not a real place, but it is a very realistic rendering of a portion of an urban city. Our DoD sponsor has approved the release of this database as "Distribution A, Unlimited", to support the training and developmental efforts both in the military, the civilian first response, and civilian developmental communities.
The associated 3D models are likewise provided to permit the users to create their own training scenarios or vignettes to support their training needs.
---
DATA CONTENT
Polygons: 43250
Area: 0.25 km2
AUTM Database Extents:
Lower left corner: (485000.00, 4422000.00)
Upper right corner: (485750.00, 4422500.00)
Minimum elevation value: 0.00 (meters)
Maximum elevation value: 13.00 (meters)
DRM Classes Used:
Absolute Time
Absolute Time Interval
Ambient Colour
Citation
Classification Data
Classification Related Features
Classification Related Geometry
Colour Shininess
Data Quality
Description
Diffuse Colour
Distance LOD Data
Edge Direction
Emissive Colour
Environment Root
Environmental Domain Summary
Face Direction
Feature Edge
Feature Face
Feature Face Ring
Feature Node
Geometry Model
Geometry Model Instance
Image
Image Library
Image Mapping Function
Inline Colour
Keywords
Legal Constraints
LOD Related Geometry
Linear Feature
LSR 3D Location
Model
Model Library

Perimeter Data
Perimeter Related Feature Topology
Point Feature
Polygon
Presentation Domain
Primitive Colour
Process Step
Property Set
Property Set Index
Property Set Table
Property Set Table Group
Property Set Table Library
Property Value
Reference Vector
Rendering Properties
Responsible Party
RGB Colour
Security Constraints
Spatial Extent
Spatial Index Data
Spatial Index Related Geometry
Specular Colour
Texture Coordinate
TM 3D Location
Translucency
Transmittal Root
Transmittal Summary
Union Of Feature Topology
Union Of Features
Union Of Geometry Hierarchy
Union Of Primitive Geometry
Vertex
World 3x3
World Transformation
EDCS Classification Codes Present:
ECC_APERTURE
ECC_BARRIER
ECC_BUILDING
ECC_BUILDING_COMPONENT
ECC_CONTAINER
ECC_DOOR
ECC_DRY_LAND
ECC_EQUIPMENT
ECC_EXTERIOR_WALL
ECC_FLOOR
ECC_FLOOR_LEVEL
ECC_FOOD_OVEN
ECC_GRASS_LAND
ECC_INTERIOR_WALL
ECC_LAND
ECC_MOTOR_VEHICLE
ECC_ROAD
ECC_ROOF
ECC_ROOM
ECC_ROOM_CEILING
ECC_RUBBLE
ECC_SIDEWALK
ECC_STAIR
ECC_TERRAIN
ECC_TREE
ECC_WINDOW
---
COMPATIBILITY INFORMATION
This data set is compliant with SEDRIS 4.0.x.
---
POINT OF CONTACT
Send email to help@sedris.org / se-ida@sedris.org for questions or assistance in using this data set.
As a minimum, please provide the following in your email:
data set name
SEDRIS compatibility version
hardware architecture
OS name and version
detailed problem description
---
DOWNLOAD
| FILE | SIZE |
| --- | --- |
| town_sq_4.0.zip | |
.
Last updated: _ April 13, 2008